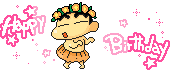 salam
,,

nanti2,,
sblom korg slah phmm,,
is not my bday ok!!,,
my beshfren nye bday,,
nur shuhada bt hj.ya'acob,,
just called her Ada,,
actually bday die semlm,,
15 july,,
so,,
happy bday to her,,
moga pnjg umo n murah rezeki,,
actually die ni kwn yg paling rapat ngn aku
since aku standard 2,,
so skg dh 14 thun kami kwn
wau!! lame kn,,
thats y la i love her gle mampos nye,,
hehehe

skg dia stduy kt uitm jengka,,
kos akaun,,
n yg pnting die lg pndai dr aku!!
well,,
i dont mind!!
sb memg die hebat pn dr aku pn dr dlu,,
dan yg paling best kwn ngn die
bnyk persamaan aku dn die,,
pnah dlu kad raye yg aku bg kt die n die bg kt aku same
bukn sekali tp 2 tahun berturut2,,
kdg2 ble keluar aku perasan sandal kami same,,
dn yg paling best tarikh couple kami hmpir same,,,
aku 18.1.07
die 18.12.06
beza bulan jew,,
pkwe kami pn berasal dr daerah yg same,,
n the latest one,,,
kereta kami same,,
die kai viva hitam n me 2,,,
omG!! thanks God,,
kau anugerahkn seorg kwn yg baik,,beriman,, n sgt sesuai untuk org cm aku ni,,
hehehehe
ni la pic die,,
comel?? mau ngorat??
oh no!! sydh berpunye ok!!!
lihat lg gmbr die kt bwh ni ok,,,
kalau krus ckit,, lg comel,,
ops!! jgn marah ye,,
gedik plak kau ni,

,
ni gmbr dgn kekasih hti die,,
i called him payan,,
ambik degree kt uitm gak,,

bju kami same!!!
hehehe
well!! memg sehati sejiwa pn,,
p/s:
rushing nk g usrah plak ni,,
almaklumla,,, kolej ni memg wat usrah every friday,,
dadaaaa